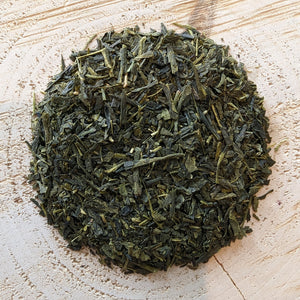 Benifuki
Benifuki is a true nutraceutical beverage above and beyond any other Japanese green tea because it contains many times more methylated catechins. These catechins are known to be effective against hay fever, eczema, runny noses, and clogged nasal passages. The Japanese people have wholeheartedly embraced Benifuki tea in the fight against allergies since 1993.
This Organic Benifuki green tea tastes light, refreshing, and slightly sweet without any trace of bitterness. This very desirable flavor remains on the palette and doesn't change as the liquid cools. The second steeping remains mild and slightly earthy tasting while the sweetness disappears.
Ingredients: Single Estate Green Tea | Kagoshima, Japan
Organic Loose Leaf
Medium Caffeine
Green Tea Health Benefits: Very high in antioxidants, may help improve cardiovascular health, balance cholesterol, defend against allergies, cancer cell development, improve brain functions and protect the brain from neurodegenerative disorders.