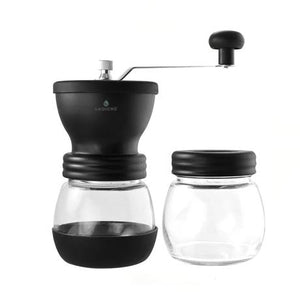 Bremen | Manual Coffee Grinder
Regular price $30.23 Sale
The BREMEN Ceramic conical burr grinder is designed to help you get the perfect cup of coffee with a simple and reliable mechanism that will evenly grind your coffee beans. The ceramic conical burrs are easy to use and have a long life for home use. The gap adjustment allows you to go from coarse to very fine grind. The ceramic burrs will never rust and the entire unit can be disassembled for washing. The canister the coffee grinder sits on is a storage unit with a air tight cover that you can store your ground coffee in and can hold up to 100g of coffee.
With your purchase of this product, GROSCHE is able to provide 50+ days of safe drinking water to someone in need.
Ideal for the perfect coffee bean grinds.
Size: Height 21 centimeters / 8.3 inches : Width 9 centimeters / 3.5 inches : Width with Handle 17 centimeters / 6.7 inches

Capacity: 100g
Handwashing Recommended