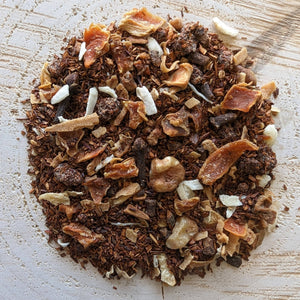 Carrot Cake
This delicious rooibos has a touch of sweetness from the maple brittle and the warmth of cinnamon and cloves. The perfect blend to reach for whether you are taking a moment to yourself or sharing a pot with your favourite people. Finish it off with a spoonful of brown sugar and some steamed milk for the ultimate treat.
Ingredients: Rooibos, Honeybush, Cinnamon, Carrots, Maple Brittle, Ginger, Coconut, Walnuts, Cloves, Nutmeg, Raisins, Vanilla, Sea Salt, Flavouring, Citric Acid
Loose Leaf
Caffeine Free
Rooibos Health Benefits: High in antioxidants, low levels of tannins, may help increase metabolism and curb appetite. Can improve heart health, balance cholesterol levels and increase blood pressure. May help keep blood sugar levels under control and reduce the risk of vascular inflammation and atherosclerosis.