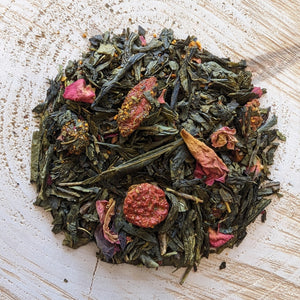 Cherry Curcuma
Curcuma (found in Turmeric) paired with tart cherry are long known in the herbal wellness community for their benefits. Including antioxidants, inflammation and aiding digestion. This slightly astringent green tea, with tart cherry, a floral rose note and a sweet goji berry finish brings this fragrant golden infusion to life.
Ingredients: Green Tea, Curcuma, Goji Berries, Cherries, Strawberry, Flavour
Loose Leaf
High Caffeine
Green Tea Health Benefits: Very high in antioxidants, helps improve cardiovascular health and balance cholesterol. Will help defend against cancer cell development, improve brain functions and protect the brain from neurodegenerative disorders. May help strengthen bones, boost metabolism, and lower risk of type 2 diabetes.