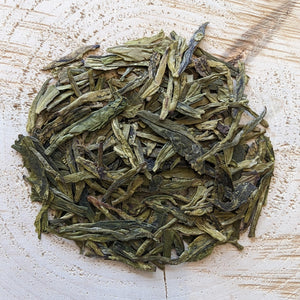 Dragon Well
One of China's top teas- Long Jing Dragon Well is a fine green tea that is world renowned for its appearance and distinctive flavour! Dragon Well tea has a one of a kind, distinguished appearance, its leaves are broad and flat, a result of laborious harvesting, handling, and drying. The labor intensive production is well worth it! Fresh grassy taste with a hint of chestnut and floral fragrance. 
Ingredients: Long Jing Dragon Well Green Tea
Organic Loose Leaf
Medium Caffeine
Green Tea Health Benefits: Very high in antioxidants, helps improve cardiovascular health and balance cholesterol. Will help defend against cancer cell development, improve brain functions and protect the brain from neurodegenerative disorders. May help strengthen bones, boost metabolism, and lower risk of type 2 diabetes.