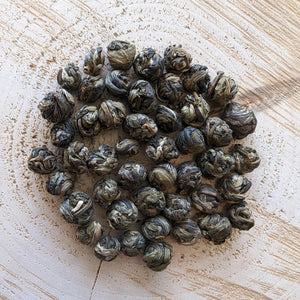 Jasmine Dragon Pearls
Crafted in Fujian Province in China, organically grown aromatic night blooming jasmine flowers are layered between fresh young green tea leaves and buds. The jasmine infused tea is then rolled at a ratio of two leaves to one unopened bud into small "pearls".
Jasmine Dragon Pearls showcase the traditional craftsmanship while the gorgeous pearls unfurl majestically, releasing the perfect blend of delicate jasmine and luxury grade green tea.
Ingredients: Chinese Jasmine Green Tea
Organic Loose Leaf
Medium Caffeine
Green Tea Health Benefits: Very high in antioxidants, helps improve cardiovascular health and balance cholesterol. Will help defend against cancer cell development, improve brain functions and protect the brain from neurodegenerative disorders. May help strengthen bones, boost metabolism, and lower risk of type 2 diabetes.