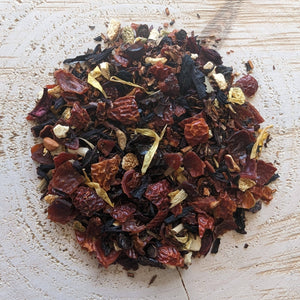 Kenora Sunset
This beautiful blend of honeybush and rosehips brews as bright as the sun setting over Lake of the Woods. A stunning herbal infusion with a light apricot finish.
Ingredients: Rosehips, Honeybush, Lemon Grass, Lemon Myrtle, Hibiscus, Rooibos, Orange Peel, Marigold, Natural Flavour
Organic Loose Leaf
Caffeine Free
Rooibos Health Benefits: High in antioxidants, low levels of tannins, may help increase metabolism and curb appetite. Can improve heart health, balance cholesterol levels and increase blood pressure. May help keep blood sugar levels under control and reduce the risk of vascular inflammation and atherosclerosis.