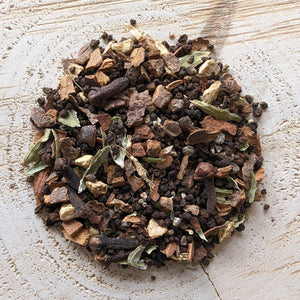 Masala Chai
"Chai" is actually the Hindi word for tea and "Masala'' translates to spiced, though in North America it is simply referred to as Chai tea. Masala Chai is the addition of spices like cardamom, cloves and cinnamon to black tea. Traditionally brewed strong with milk and sweetener. The purest blend of black tea and masala spices creates this bold, spicy blend. 
Ingredients: Black Tea, Cinnamon, Cardamom, Cloves, Black Pepper, Ginger
Organic Loose Leaf
Medium Caffeine
Black Tea Health Benefits: High in antioxidants, can help support cardiovascular health and balance cholesterol level. May improve gut health and boost your immune system. Will help reduce the risk of stroke and cancer cell development.