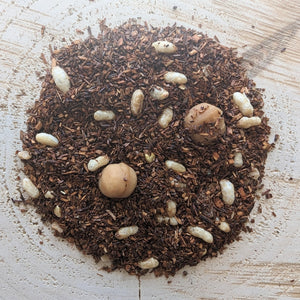 Sweet Ocean
Buckwheat & toasted rice finished off with a delicious blend of caramel & sea salt. We absolutely adore the flavors of sweet, rich, buttery caramel, and rooibos is the perfect base for a caramel blend because it has a mellow flavor with notes of vanilla that compliment this sweet caffeine free blend.
Ingredients: Red Rooibos, Toasted Rice, Caramel, Buckwheat (Does Not Contain Wheat), Toffee Bits, Vanilla Sea Salt, Flavour
Loose Leaf
Caffeine Free
Rooibos Health Benefits: High in antioxidants, low levels of tannins, may help increase metabolism and curb appetite. Can improve heart health, balance cholesterol levels and increase blood pressure. May help keep blood sugar levels under control and reduce the risk of vascular inflammation and atherosclerosis.