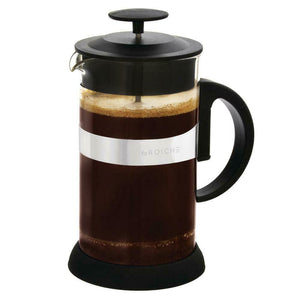 Zurich 1000ml | French Press
Regular price $22.54 Sale
The GROSCHE ZURICH is a simple coffee French press. It lets you brew the perfect cup of tea or coffee whenever you want.  It features a heatproof borosilicate glass beaker guaranteed not to cloud or impart flavour into your coffee or tea. Perfect for coarse ground coffee or your favourite loose leaf tea, the ZURICH coffee and tea press allows the grounds or tea leaves to infuse within a few minutes. It produces a rich and flavourful brew that you'll love. The 8 cup makes two to three large cups of coffee or tea, ideal for two people.
With your purchase of this product, GROSCHE is able to provide 50+ days of safe drinking water to someone in need.
Ideal for multiple cups of coffee at a time.
Size: Height 21 centimeters / 8.5 inches : Width 16 centimeters / 6.5 inches

Capacity: 1 liter / 33.8 fluid ounces
Handwashing Recommended